About the Project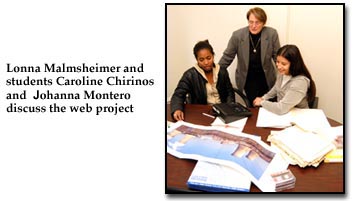 Dickinson College's Three Mile Island web site is made up of a variety of documents related to the nuclear emergency that occurred at the Three Mile Island nuclear power plant in March of 1979. Included are transcripts of interviews collected between April and August of that year in Carlisle PA, selections from the audio recordings of those and more recent, retrospective interviews, newspaper coverage of the emergency by some of the local and regional press, documents from the Three Mile Island Alert and other TMI collections that have been deposited with Dickinson's Special Collections, government documents related to the emergency, and transcripts and video clips of retrospective interviews collected in 2003-2004, and a"virtual museum" that offers a general narrative of events of the time as well as some visual materials. The site is designed to address itself to all levels of research and educational interest in this history-changing event, making material available to enrich our understanding of the emergency and its aftermath. The intention of the site is to add to the immediately available historical record; therefore, we have tried to avoid the duplication of materials on other web sites. Even though many of those interviewed at the time of the emergency gave permission for immediate dissemination of their stories, others requested that theirs not be made available in the "near future." Therefore, the primary investigators then agreed that only they would have access to the material for 25 years.
The Project, Then and Now
The web project is making public the 400 interviews that were part of a student-faculty research project conceived by four Dickinson College professors during the emergency at Three Mile Island. When events surrounding the emergency led Dickinson College to suspend classes, Professors Daniel Bechtel (Religion), Julius Kassovic and Melissa Kassovic (Anthropology) and Lonna Malmsheimer (American Studies) all began to observe the reactions to events as they transpired; believing that there was an invaluable historical record to be collected, they recruited student volunteers from those remaining at the College (many had left for home, some on parental insistence), trained them in a daylong seminar and sent them into the field to talk with those in the area who would agree to be interviewed. Dubbed the "Reaction to the Reactor Project", the work was viewed as the oral history equivalent of "salvage archaeology," i.e. as an attempt to gather whatever information about responses to the event could be gotten in the time available. Interviews included the testimony of government officials and Cumberland County employees, including emergency planners, borough officials, local business people, journalists, doctors and hospital personnel, ministers, nursing home residents, K-12 and college students as well as that of the professors, administrators and staff of Dickinson College. Although some of those interviewed came from other communities and worked in Carlisle PA, the Cumberland County seat, most were residents of Carlisle or its close surroundings. About twenty miles from the Three Mile Island plant, Carlisle was designated early on as a site to which residents of communities closer to the plant would be evacuated if the need arose. Evacuation from Carlisle, though not unusual, was much less common than it was from communities closer to the plant, especially those within a ten mile radius. More than four hundred interviews were conducted over the five months following the accident and transcription was completed the following year. The interviews vary in depth, length and quality, as any experienced investigator might expect, since many of the interviewers were novices and since fieldwork theory and procedures were not nearly as highly developed or rigorous as they are now. For that reason, and also because some permissions are partial or missing entirely, the names of both the interviewers and of those interviewed are removed from the transcripts. Individuals who have a legitimate need to identify either can contact us and we will consider releasing them.
Project Details
Dickinson College was the sole intellectual, material and technical support for the original 1979 project and has provided those resources for the support and preservation of those materials as well as the development of this website. Website development has been a part of the Dickinson Electronic Initiative in the Liberal Arts (DEILA) and had been supervised by the Dickinson College Community Studies Center and The Dickinson College Archives.
Processing:
Work on the Three Mile Island website began in the summer of 2003 and included the copying of now-fragile audio tapes of the original interviews, the order and selection of materials for preservation and digitization, the digitization of transcripts, newspaper text, images, audio, and video.
Lonna M. Malmsheimer
Project Director
Professor of American Studies and Director of the Community Studies Center
James Gerencser
Dickinson Archivist and Data Base Director

Robert K. Reeves
Project Technician
Malinda Triller
Project Technician
John Luetzelschwab
Professor Emeritus of Physics and "Science" writer
John Osborne
Associate Professor of History and DEILA
Director
Madelyn Campbell
Assistant Director of Community Studies Center and Digitizing and Proofing Coordinator
Jean Weaver
Instructional Technology
Tom Smith Instructional Technology
Numerous undergraduate students also provided valuable assistance toward this project. Their efforts in the preparation of materials included transcribing and hand-keying text, and performing original research. Our special thanks go to:
Jamie Alexander
Andrew Best
Eboni Brown
Matthew Budinger
Caroline Chirinos
Anna Harden
Khwaja Hassan
Sarah Hyslop
Megan Klasic
Brenden Kok
Sarah Koscinski
Dana MacPhee
Johanna Montero
Judith Rudge
Nalleli Sagardia
Elizabeth Scott
Shana VanValkenburg
Mara Waldhorn
Whitney Wright
Conditions of Use
Dickinson College retains all rights to the digital images and original content presented on this website.
Dickinson's Three Mile Island website is intended for educational and research purposes only. These materials may be used freely for teaching and academic research and may be linked from other websites; use of the images, transcriptions, and original content contained in this site should be properly credited to the source.
Any and all commercial use of the materials on the Dickinson College Three Mile Island website is strictly prohibited without written permission from Dickinson College. Reproductions of materials and licensing for use are available, upon request, for a fee. If you would like to use the materials presented here for publication or presentation, please contact Dickinson College and the Community Studies Center.